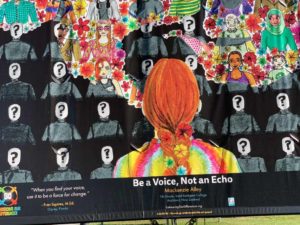 In these times especially, the opportunity to see something truly original, consciously inclusive, and obviously impactful is tremendously up-lifting. Embracing our Differences is an organization founded by two modest and humble Sarasota philantrophists, Dennis and Grace McGillicuddy. Pictured above is one of the fifty 16 feet wide by 12.5 feet high billboards I saw in Sarasota, Florida's beautiful Bayfront Park in late March before driving to Md. Remarkably, since 2004 nearly 3 million have toured this annual event including 218,000 last year. For the 2020 exhibit there were 16,000 submissions, from 127 countries, 389 schools, and all fifty states. I don't know but I imagine this result might have started years ago as a husband/wife conversation coffee cups in hand between two good hearted and capable people at a kitchen table.*. Just now, as I am writing this, I glanced up at the tv and saw we're now at 1,123,024 confirmed COVID-19 cases world wide with 228,006 in the US. Florida has 10,268 cases/170 deaths and here in Maryland 1985 cases/31 deaths. There were far less just a few days ago before driving back from Fl. With the ever spreading COVID-19 you know millions of folk around our connected world are asking the same question: How do we cope and what can we do? I do not know anyone left untouched. Do you?
As my eyes leave the tv and return to my iPad my mind comes back to the straightforward mission of Embracing Our Differences:
"Through the power of the arts we educate and inspire to create a better world. We envision a world that respects differences and actively rejects hatred and prejudice". As someone with a business background and an interest in exceptionally performing for profit and non-profit organizations, I wondered how this one has become so unique and successful. Sometimes, as I think is the case here, the brilliance and impact of an extraordinary simple tactical decision by an individual, company, or organization is the difference maker. Go back and look at the Billboard pictured above and the quote on the lower left: "When you find your voice, use it to be a force for change". This was not a quote by the artist but rather one of thousands of different quotes submitted in 2019. Submission rules are straight forward. Quotes must be original and limited to 20 words. Once the fifty art winners are chosen, staff and volunteers collectively determine which quote should be with which painting or photograph.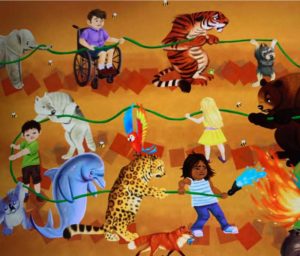 Titled Come Together here is my granddaughter's pick as her favorite of the 50 Art Billboards. Kaitlin loves art, animals, playing video games, (eg: Minecraft, Super Smash Bros., Legend of Zelda, Animal Crossing…) far more than talking. Yesterday we set a record with a sixty minute phone call.
I credit this to the Embracing Our Differences web site. It includes every years' art selections & related quotes. With our cell phones on speaker and using an iPad we each went to www.embracingourdifferences.org, tapped the Galleries bar; and selected the 2020 Gallery. If you tap on any of the fifty winners chosen from 11,000 entries you will see the painting; the artist's own description; and the quote assigned by a sixteen person volunteer committee. I asked Kaitlin to start at the beginning and scroll through but stop and we'd share our reactions whenever a particular piece grabbed her attention. She stopped at eight. Interestingly – at least for me – four were ones I had also liked doing my homework before calling her.
Kaitlin's first stop was the painting by New Jersey artist, Ash DiCristofalo titled "Come Together" which had this assigned quote: "In a world full of talk, be the action that everyone so desperately wants."
"I had asked Kaitlin why she liked it and wrote this: "Kaitlin said she liked the colors the artist used; that it included many different animals and kids connected and working all together to put out the fire." I emailed this to Kaitlin and asked her to be my editor. Here's what she sent back:
"Everything seems really good. Though the reason why I liked it was because of the style of the art. Art style is very important to every artist and can sometimes help portray what the artist is saying depending on what they do like heavy line art or unique colors, or if the style is realistic, cartoon-ish, or somewhere in between. I also liked the diversity in the piece, it wasn't just one set of animals or humans. It was a large variety including everyone, which I think speaks something."
At the risk of boring the reader with too many words and risk not seeing the forest from the trees here is DiCristofalo's own statement about his creation: Not including it here would diminish its importance and impact.
"Inspired by the fires in the Amazon and the brave young people who speak out on behalf of the environment, I painted this to suggest that even when we are afraid of climate change and uncertain as to what will become of our Earth, we can still join one another in working to build a better world. Even though all the figures in the scene are feeling discouraged, scared and nervous about the future and they are all different from one another they have come together to put out the fires on Earth as a team.
The little girl leading the way is smiling slightly because, even though she's frightened too, she knows that there is hope if we join others. With all of our diverse strengths combined we can achieve miracles."
My own favorite was "Each Drop Counts". It was done by fifth grader, Sakina Mandsaurwalla from Mumbai, India. It grabbed my heart. Think about this: A nine or ten year old girl 8000 miles away is able to impact the viewer instantly because of how vividly, simply, and clearly she captures two of the three greatest problems our world faces todayincome inequality and climate change. The differences between living on one side of the red line and being aware could not be clearer. If it doesn't speak to adults in India or here in the United States now will it ever?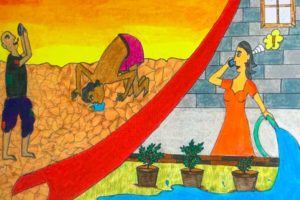 Here is Sakina's statement about her painting: "This topic highlights the growing scarcity of water in rural India. I hope to inspire people in urban India to become aware of how easily resources are available to them- and to think twice before wasting precious resources. I think it is time for us to open our eyes to the suffering of those around us and value what is available to us. A little caution everyday will go a long way in quenching the thirst of all human beings."
Sakina's painting, the statement she wrote about it, perhaps with a little help from Ms. Arwa Udaipurwala her fifth grade teacher, and this selected quote by American Melanie Way from Wheatfield, Indiana:
"It isn't about whether or not you CAN change the world; it's whether or not you WILL"
brings me back full circle to the coronavirus and initial question for all of us: How do we cope? What do we do".
Here's my own answer and hope: I am acutely aware that I am blessed to have the luxury to have seen Sarasota's Embracing Our Diversity exhibit; talk with the organization's extremely knowledgable Executive Director, Sarah Wertheimer; the time to write; and many friends over many years with whom to share these musings. For me writing is a way to cope, deal with, and learn, especially in difficult hard to understand times, I hope it might help others a bit. But beyond that, my bigger hope is that the Boards and staff of organizations like the Boys & Girls Clubs find something herein or via the Embracing Our Differences exceptional web site to stimulate new ideas and actions. Actions that bring some joy, knowledge, and fun for our members and their families at home during this unique difficult, complicated, and scary time. It is America's World War III. GO DO.