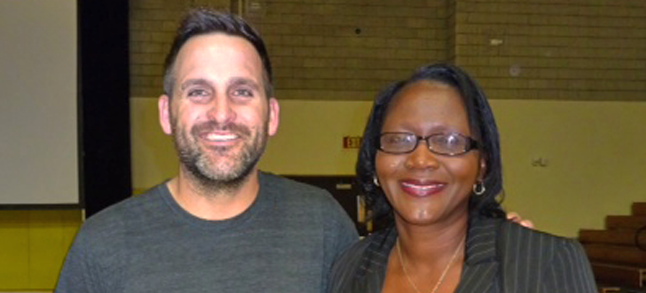 Cody Hodges, Rachel's Challenge, Presenter; Dr. Rachel Shelley, Principal, Booker High School
December 3, 2014 proved quite a special day for some Sarasota kids and adults and the organizations that made it happen: the Cal Ripken, Sr. Foundation (CRSF); the Sarasota Police Department; and the Boys and Girls Clubs of Sarasota. As a result of a $5000 grant from the Sarasota Police Department using drug forfeiture funds CRSF was able to bring Rachel's Challenge to Sarasota. At its core, Rachel's Challenge is about how children and adults alike can live their lives to make the world better for themselves and others. Rachel Scott was the first person killed in the Columbine High School massacre- there were 13 killed in April 1999. In the aftermath of her murder Rachel's father and step-mother established Rachel's Challenge, a national non-profit organization that has brought Rachel's Challenge to millions of school children and adults.
In black and white Rachel's Five Challenges are on target but by themselves not extraordinary:
1. LOOK FOR THE BEST IN OTHERS

2. DREAM BIG

3. CHOOSE POSITIVE INFLUENCES

4. SPEAK WITH KINDNESS

5. START YOUR OWN CHAIN REACTION
Having listened to Rachel's father Darrel Scott at a CRSF Board meeting in late 2013 and
Rachel's Challenge presenter Cody Hodges talk on Dec. 3 to 1100 Booker high school students in the morning; to kids at the Roy McBean Boys and Girls Club and Police Officers volunteering there in the afternoon; and in the evening at the Robert Taylor Center to kids from all four Boys and Girls Clubs in the area, adults from the community, and interested police officers, I can tell you that the emotional impact on young and old alike is almost beyond description. At the end of the session at Booker High a young male came up to Cody and said, "If it were not for this, I would not be here tomorrow". We bring the Rachel's Challenge folk to CRSF camps each summer and this reaction is not rare.
My own goal in helping get the program in Sarasota started was to initiate another tradition in the community of partnerships working together on behalf of youth to bring new significant value. Am happy to say that County Commissioner Carolyn Mason who chairs the McBean Club Advisory Board and Bill Sadlo CEO of the Boys and Girls Club; Police Chief Bernadette DiPino and her Deputy Steve Moyer; and the star Principal at Booker High, Dr. Rachel Shelley, said they plan to expand the program in Sarasota in 2015.
At Booker High we stood and were able to watch the student audience on each side. It was remarkable to me that of these 1100 teen agers- a third white, a third black, a third Hispanic- all sat still and intently listened to Cody's sixty minute presentation. The Cal Ripken, Sr. Foundation is partnering with Rachel's Challenge to bring programs like this to other communities including a new one under joint development, the Uncommon Athlete.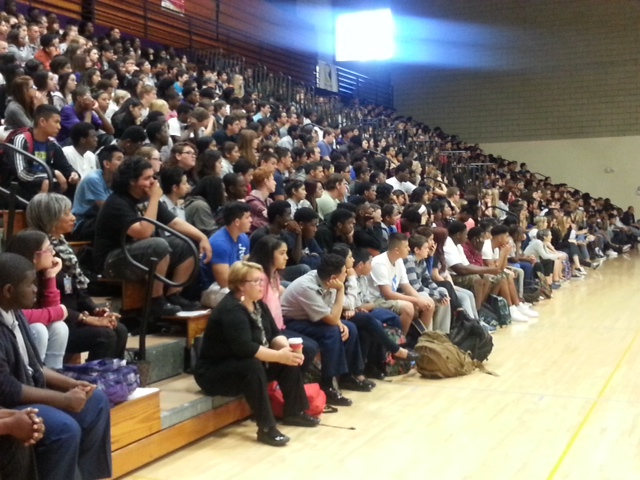 As I sit here writing in Maryland thinking back on Cody Hodges presentations in Florida, there are two elements which I know will stay with me: The first is how his words, relating style, and questions got folk in the audience thinking about what happens when you reject someone new quickly because of first impression or that particular moment.
He began by simply asking, "Have you ever had a bad day?" And asked it again engaging everyone as he made us think about situations in our own lives when we respond poorly to someone thinking only about ourselves and not considering the context at that particular time for the other person. Ring a bell?
The other was this story he recounted that Darrell Scott had shared at the Foundation Board meeting in Nov. 2013.: Darrell encountered a Ohio businessman, Frank Amedia, who told him that since Rachel's funeral that he saw on CNN he had been having a recurring dream. That dream was of a girl with big eyes and tears flowing down to a flower on the ground. He asked Mr. Scott if this dream meant anything to him. Darrell said, "I am sorry, no" and tossed the business card Frank gave him in his desk. A few days later Rachel's father was asked by the local police to come to the station and retrieve Rachel's backpack as they no longer needed it for evidence. He did so, came home, finding her last diary. On the last page, written 20 minutes before she was killed, was this drawing which had 13 tears raining down on a blossoming flower.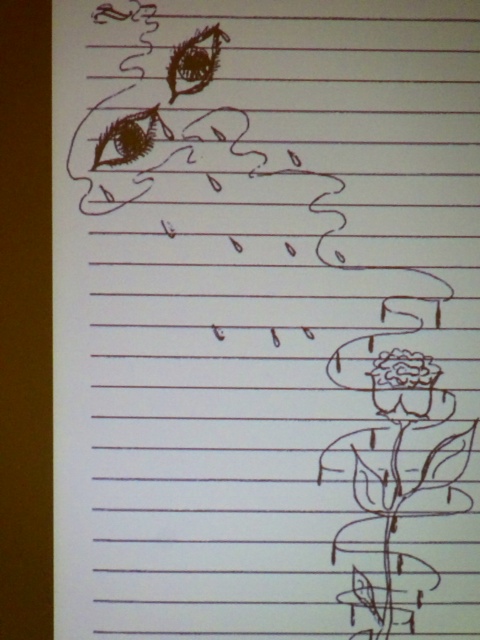 I suspect that it was this story that motivated this email from CRSF Board member and Oriole's attorney Alan Rifken to a fellow Board member:
"Frank, (Senator Frank Kelly) I will try to call you Monday and recount, inadequately to be sure, the remarkable presentation we heard yesterday about the inspirational life of Rachel Scott, who, as you may know lost her life in the Columbine massacre in 1999. After her untimely death, her family began the Rachel's Challenge Foundation built upon Rachel's remarkable kindness, in words and deeds. She wrote, among other things, that an act of kindness creates "a chain reaction" that leads to another and another kind act. She led her life that way and at her funeral, televised by CNN, dozens and dozens of students from Columbine attested to the positive effect she had on their lives. We heard a number of those testimonials. From that tragedy and inspiration, Rachel's family started the Foundation that today preaches respect, kindness and understanding among students all over the country. They have already reached millions of young adults and their perspective aligns perfectly with Cal's."
Fifteen years later the impact of this then seventeen year old girl is still strong and that is extraordinary. The Cal Ripken, Sr. Foundation is partnering with Rachel's Challenge to bring programs like this to other communities including a new one under joint development, the Uncommon Athlete.