This year marks the 75th year of the National Baseball Hall of Fame and the weekend of July 25th, 2014 most certainly memorable for the inductees: Frank "Big Hurt" Thomas, Greg Maddux, Tom Glavine, Bobby Cox, Tony La Russa, and Joe Torre. Very memorable for me too as Cal Ripken, Jr. invited me to join him knowing that the only way this could work was if he "carried my bags". I had recently come off colon surgery and was under serious orders from the surgeon and my wife Elaine to lift nothing. Cal did this with good humor and grace.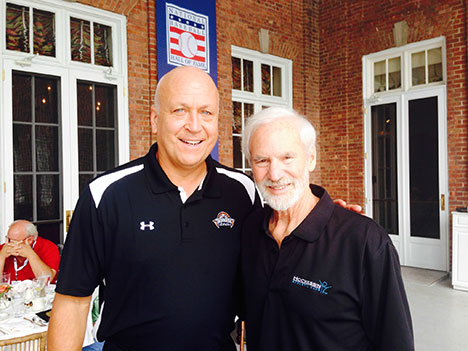 As one can imagine, this weekend at Cooperstown was a great experience at every level- whether simply walking through town while Cal rode his bike 25 miles around the lake, having lunch on Saturday at the Blue Mingo or listening to Billy Crystal, Tom Brokaw, Reggie Jackson, and former teammate Harold Reynolds. I wanted herein to share some of my own "takeaways" and attempt to incorporate a few photos via my iPad. Being technically challenged, the latter did not come easily but I am glad I gave it a shot, no pun intended.
The picture above with Cal was taken from the porch of the grand Otesaga Resort Hotel which opened in 1909. The picture below was also taken from this porch and overlooks the south end of Otsego Lake, aka "Glimmerglass" in James Fenimore Cooper's novels. A beautiful spot to have a meal or a drink.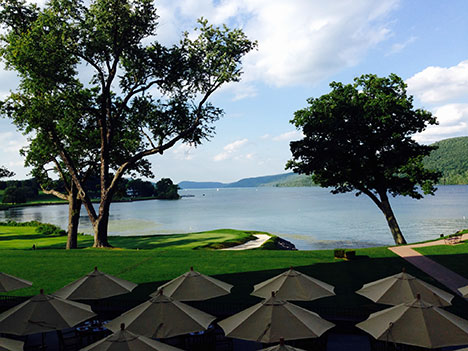 Even if you are not a baseball fan, spending time in Cooperstown and the Otesaga takes you back in time and seems to slow it down in the best ways. The hotel is now owned by the Clark Family. Their contributions to the village of Cooperstown and environs- $7,000,000+ annually has helped make the village of Cooperstown a national treasure. Jane Forbes Clark is the Chair of the National Baseball Hall of Fame and the host of the Hall's annual induction ceremony. Welcoming an estimated crowd of 48,000 on Sunday she reminded us of why this day was so important to the day's Hall of Fame Inductees and their fans: In the history of professional baseball, of the 18,000 who have played the game at that level, only 211 ( 0017%) have been inducted into the Hall of Fame. 50 of the 66 living members were there in 2014.