A Trip to Cooperstown with Cal
September 10, 2014
A TRIP TO COOPERSTOWN WITH CAL
This year marks the 75th year of the National Baseball Hall of Fame and the weekend of July. 25th, 2014 most certainly memorable for the inductees: Frank "Big Hurt" Thomas, Greg Maddux, Tom Glavine, Bobby Cox, Tony La Russa, and Joe Torre. Very memorable for me too as Cal Ripken, Jr. asked me to join him knowing that the only way this could work was if he "carried my bags". I had recently come off colon surgery (doing fine) and was under serious orders from the surgeon and Elaine to lift nothing heavier than a wine glass. Cal did this with good humor and grace. As one can imagine, this weekend at Cooperstown was a great experience at every level- whether simply walking through town while Cal rode his bike 25 miles around the lake, having lunch on Saturday at the Blue Mingo listening to he and Harold Reynolds exchange Orioles' tales, or watching as Billy Crystal, Tom Brokaw, Reggie Jackson and numerous Hall of Famers sought out Cal. I wanted herein to share some of my own "takeaways" and attempt to incorporate a few photos via my IPAD. Being technically challenged, the latter did not come easily but I am glad I gave it a shot, no pun intended.

The picture above was taken from the porch of the grand Otesaga Hotel which opened in 1909. The picture below was taken from this porch and overlooks the south end of Otsego Lake, aka "Glimmerglass" in James Fenimore Cooper's novels. A beautiful spot to have a meal or a drink.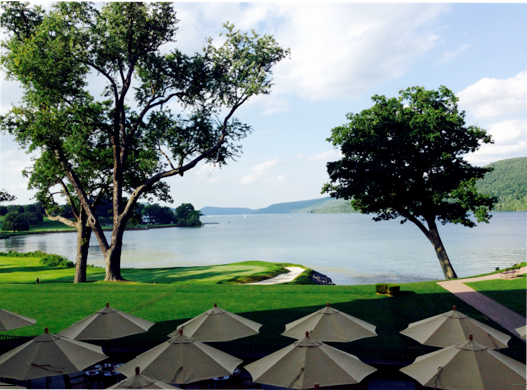 Even if you are not a baseball fan, spending time in Cooperstown and the Otesaga takes you back in time and seems to slow it down in the best ways. The hotel is now owned by the Clark Family. Their contributions to the village of Cooperstown and environs- $7,000,000+ annually- has helped make the village of Cooperstown a national treasure. Jane Forbes Clark is the Chair of the National Baseball Hall of Fame and the host of the Hall's annual induction ceremony. Welcoming an estimated crowd of @48,000 on Sunday she said: In the history of professional baseball, of the 18,000 who have played the game at that level, only 211 ( 0017%) have ever been inducted into the Hall of Fame. 50 of the 66 living members were there in 2014 and for sure the stories flowed.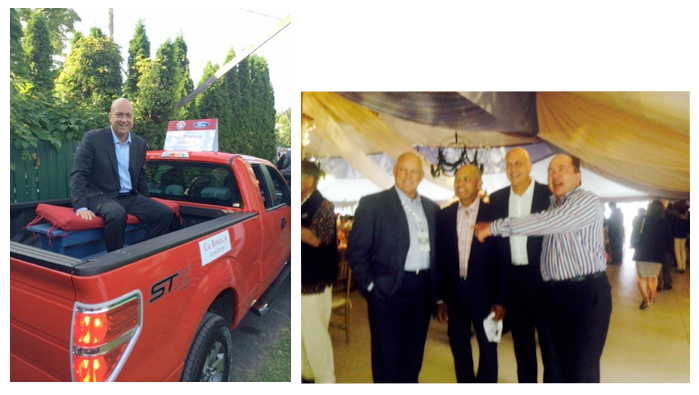 (left) Cal riding in the Parade ofHall of Famers on Sat. (right) Nolan Ryan, a thin Reggie Jackson, Cal, and a pointing Johnny Bench on Fri. night
Harold Reynolds at lunch told this one- and I suspect it wasn't the tale's first time around: Harold delighted in telling when he played with the Orioles how he was fined by the team's kangaroo court. To hear Harold tell it: he was living in downtown Baltimore, tired of the traffic getting to the ball park, and asked Cal for a bike shop recommendation. A few days later he rode his new bike to the ballpark, dressed, and went out to play. When he came back to shower after the game he found one tire in his locker, the other in the shower, and the handlebars and frame suspended from the ceiling. He accused Cal of instigating and appealed to the kangaroo court for full restitution and the levying of fines. Reynolds "lost" and instead was fined for "bush league" behavior, riding a bike into the club house. Cal told him he embellished. For me it was a good story and one easily remembered. The best story of the entire weekend for me, however, was the one Tony LaRussa told from the podium at his induction speech. Before this Hall of Fame weekend I didn't know that in the history of baseball only John McGraw with 2,763 and Connie Mack with 3,931 ever won more games as manager than Tony. LaRussa won 2,728. He started his managerial career in August of 1979 with the Knoxville Sox, a Chicago White Sox Double A team in the Southern League. La Russa recalled for the audience that Sox GM Paul Richards first introduced him to the local Chamber of Commerce saying "well, if you are wondering about this boy that's going to manage this team and you've heard that the worst player makes the best manager, this young player has a chance to be an outstanding manager. Then he watched me manage four or five games and came up and I asked, 'what do you think Paul?' and he says "I think you may have been a better ball player than I thought you were". Don't you think this is the kind of story you just can't make up- only improve on?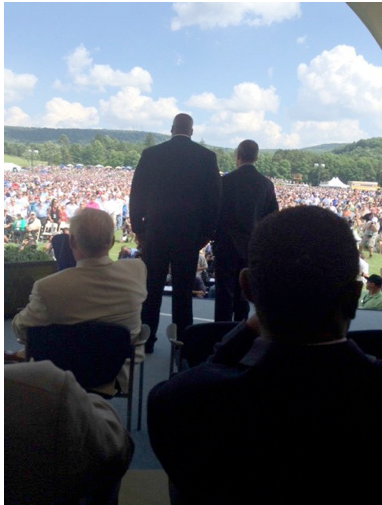 This is a shot Cal took of the "Big Hurt" from the stage just before he was officially inducted into the Hall of Fame. This is not a small man. Des Bieler, Washington Post, wrote: " Thomas's (HOF) speech was easily the emotional highlight of the day. To hear the big man tell it, he wasn't necessarily planning for that to be the case. Here is what Thomas told mlb.com: 'So for me today, to be honest with you, I was Cool Hand Luke sitting there watching everyone's speeches. As soon as I stood up, my knees started shaking and the first thing I looked at was my mom. It hit me right in my heart. My mom hadn't left Columbus, Georgia in 15 years. She was here today and I just started crying.' Thomas, a five time All Star, was elected to the Hall of Fame in his first year of eligibility. Thanks to Mr. Google I learned the "Big Hurt" made the All Star team five times, had a lifetime batting average of 301, and was the American League comeback player of the year in 2000. He was born in Columbus, Georgia in 1968.
Four years before that I had spent time in his home town receiving infantry officers training at Fort Benning which was located there. Though I cannot remember a lot about Columbus as we did not get off base much, I vividly remember the drive South from my small home town of Easton, PA.  Seared in my memory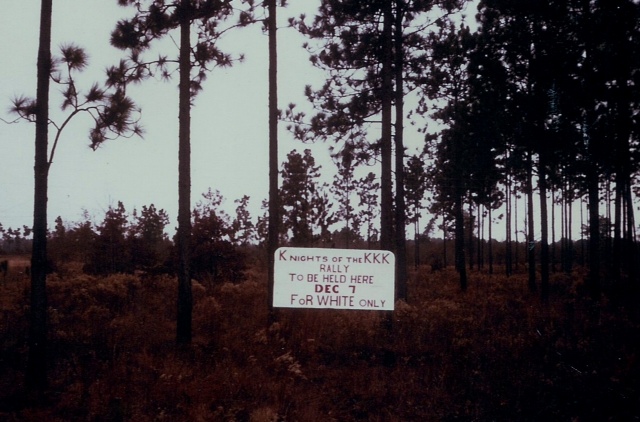 Seared in my memory from that trip was crossing into Georgia and soon seeing hand painted white signs lettered in red advertising a local Klu Klux Klan meeting. Sadly, they are still at it today and it's 2014 not 1963.
After penning this last sentence I simply stopped writing questioning why I was even making this reference to an old but for me significant memory infrequently recalled. Wasn't this something way out of left field in the context of a special Cooperstown weekend? And who cares? The truth is I do. As I age the more I believe the connection an individual makes with people, events, concepts, and time are not by accident. The history of baseball is intertwined and inseparable from the country's social history.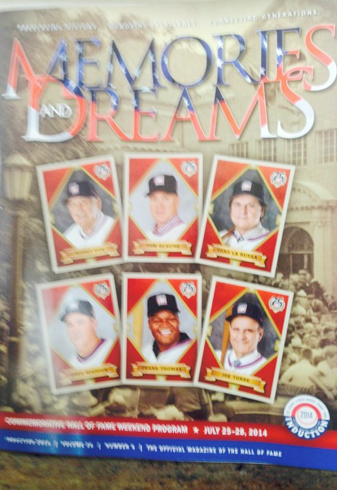 In real time a Jackie Robinson All Star team of eleven and twelve year olds from Chicago's south side beat a team from Las Vegas while the events of Ferguson are transpiring. They will represent the United States in the 2014 Championship Game against Korea. I know little of the team's history, how the league got started, what the kids were like, what they think of how and where they've come or even if they do. But I know behind each of these kids is a LEADERSHIP STORY – a mother, a father, a sibling, a grandparent, a coach, a teacher, a Boys and Girls Club staffer, or spiritual inspiration. Thinking about the juxtaposition of the two stories- South side Chicago Little League Champs inspires a city; Ferguson, Missouri police shooting of a black teenager depresses country- I wonder what the "culture" was like on the Jackie Robinson team that made them so successful and why the "culture" of police/ community relations might have caused rather than prevented this incident.
In reality one already knows the answer, EXERCISING LEADERSHIP.  Whether it is what Jane Forbes Clark is doing in the idyllic country setting of Cooperstown; or what Quicken Loans founder, Dan Gilbert, is endeavoring to accomplish in Detroit; or what Howard Schultz has demonstrated in growing Starbucks; or what Cal is doing in his post baseball career; or what some unsung unknown coach means to his players, at the end of the day isn't positive change always about leadership?  I'll come back to this at a later date but in the meantime shouldn't I end this piece by reminding Cal that there was a time when he had hair on his head and mine wasn't white.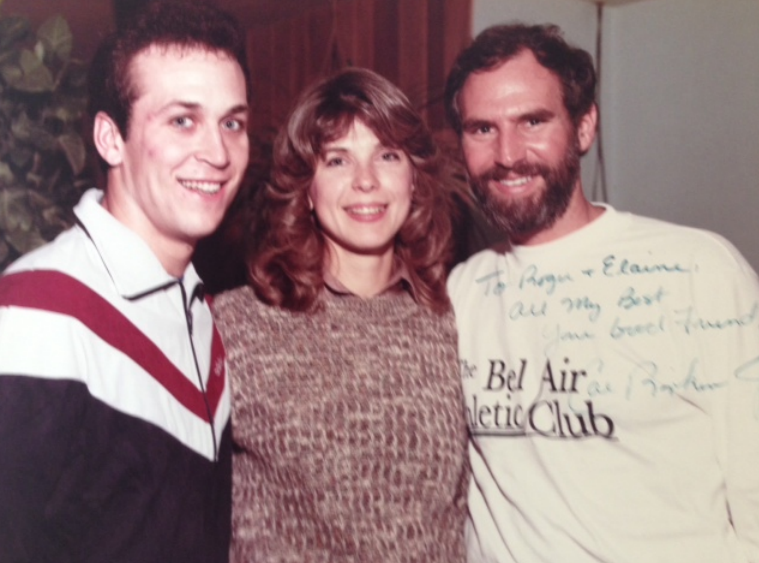 Cal, as I look at this photo I can only say, "Who Knew"!
Thanks for the ride!